Water cooperation agreement between Biotope and China
09/10/2018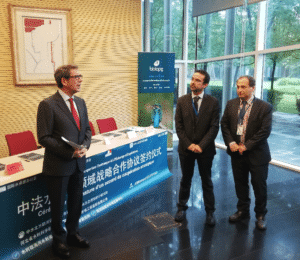 Yesterday, Monday 21 May 2018, at 5:00PM, Biotope President's Frédéric Melki signed a cooperation agreement with five Chinese entities at the French Embassy in Beijing.
The cooperation agreement stems directly from French-Chinese experience sharing led by OI-Eau as part of AFD financing for FEXTE. Biotope's aim is to facilitate its activities in China through its five Chinese partners (accreditations of Chinese authorities to certify plans, monitoring measures, audits, etc.), and primarily China Water Resources Beifang (leading Chinese private ecological engineering firm, with 1 400 employees).
The agreement covers all types of engineering activities in the fields of integrated river developments, preservation and restoration of aquatic ecology, water pollution, preservation of aquatic environments, design of 'sponge cities', wetland management and environmental assessments.
At the signing ceremony, the French ambassador highlighted the intellectual cooperation that was so essential for environmental engineering in China, and fully in tune with the French-Chinese year of the environment for 2018 and 2019. Mr. Melki, Biotope Founder and President, also spoke, celebrating this partnership and its prospects, for advances in the area of water management, for the environment and for France-China friendship. Biotope is heavily involved in the water sector, particularly as administrator of the AquaValley global competitiveness hub.
French-Chinese institutional cooperation for water is framed by a cooperation agreement signed in 2009 between the French Ministry of Ecology and Sustainable Development and the Ministry of Water Resources. In this framework, the International Office for Water (OI-Eau) and the Commission of the Hai River Basin have been conducting an integrated management pilot project on the Hai River basin since 2011. The OI-Eau project tests the application in China of certain basin management mechanisms, fighting water pollution and protecting ecosystems, mirroring French integrated water resource management.